Most people associate porches with sitting outside and enjoying warm weather, which they're undoubtedly ideal for. However, we at All Seasons Outdoor Spaces think that you should be able to enjoy your porch all year long.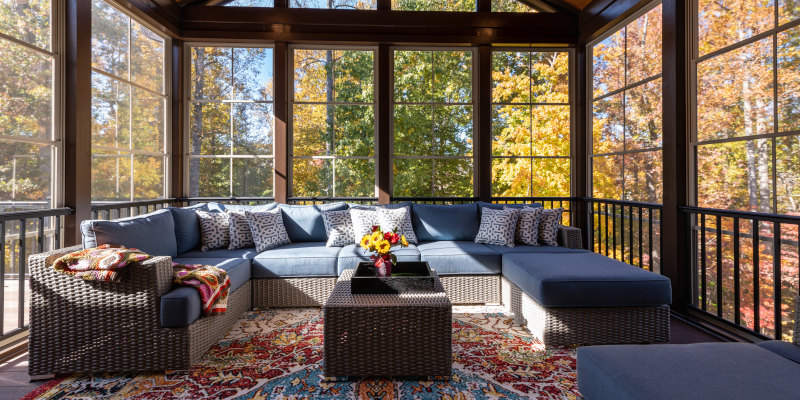 Our landscaping professionals have put together this helpful guide for designing and decorating your porch so that you can use it no matter what the weather is like outside.
Add heating and cooling elements. The first thing to think about is how to regulate the temperature. Porches inherently offer excellent airflow, but adding a ceiling fan for days when the breeze is minimal might be worthwhile. For days when the weather turns cool, having the option to bring out a portable heater or even build one into the design will make it possible to stay cozy. Curtains or blinds can also help you regulate the temperature on your porch, offering insulation in the winter and year-round protection from wind and rain.
Ensure you have adequate lighting. Even during the long days of summer, good lighting is essential for porches. To ensure that your enjoyment of your porch doesn't end when the sun goes down, consider incorporating overhead lighting or places to hang string lights or lanterns.
Choose the right furniture. Durable and weather-resistant options like wicker, wrought iron, and other metals are perfect for porches. Adding comfortable cushions made from waterproof or moisture-resistant materials will help keep things looking good, and cozy throw blankets are perfect for curling up in.
Plan for pests. Mosquitoes are an unfortunate part of life in the South, but they don't have to prevent you from enjoying your porch. Screened-in porches offer excellent protection from bugs and other critters, but if you want the option to open things up, you can also go for curtains or blinds. Plants can also be your ally against bugs. Citronella, mint, lavender, and rosemary can all help repel mosquitoes, so consider potting some and having them placed strategically on your porch.